Who We Are
Carter's Temple Church of God in Christ is a Bible-teaching, Bible-believing, Bible-practicing ministry. Our purpose is to draw the lost, strengthen saints, serve mankind, and unify all worshipers in Holiness. We are committed to impacting the community and the world by exemplifying Godliness and Christ-like character.

History of Carter's Temple
In 1970, Jesse Carter, Sr. was led of the Lord to begin a church in East Waco. Carter had served faithfully at his home church as Assistant Pastor, with his wife serving as minister of music. "Brother Jesse," as he was affectionately known, found a small building on Dallas Street that had been used as a storage building for grain sacks. Pastor Carter, with his wife and two children, began working – clearing out, and cleaning the building that would become Carter's Temple Church of God in Christ.
Each of the children who were still home at the time, Jesse, II, 18, and Lorye, 14, had assigned tasks. Jesse, II, who founded the church with his father, assisted with painting, moving furniture, building the pulpit/choir area, and Lorye cleaned restrooms, vacuumed the carpet, and eventually became the church van driver. Finally, after much prayer, sweat and preparation, the first service was held on May 23, 1971, with Superintendent C.J. Jones ("Baby Jones") performing the Dedicatorial Ceremony.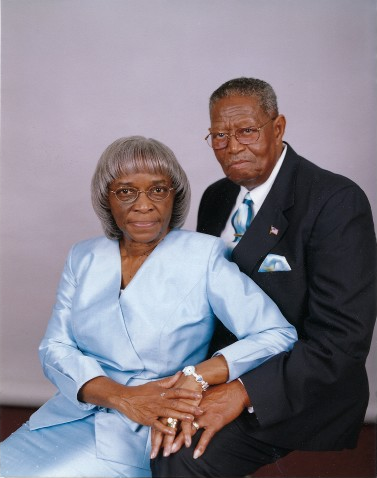 For 15 years, God blessed in the "little building;" couples were united in marriage, children were born, backsliders were reclaimed, bodies were healed, and the church experienced growth in membership. Pastor Carter shared with the membership that God spoke to him, saying that Carter's Temple would be a "wayfaring church;" many would come and be blessed, but not all would stay. As a result, many were trained and prepared for ministry, and now serve in various cities and states. Pastor Carter realized that larger space was needed for the saints. The members, not knowing how this would be achieved, trusted and followed the leadership of their Pastor.
In 1986, the foundation for the NEW edifice was poured, and on a Sunday, following service, in a move much like Joshua, Pastor Carter instructed the members to come out and join him in walking around on the foundation – no conversation, just silent walking until further instructions were given. After much excitement the first service was held in July of 1986. Again, souls were added, and God's presence was great in the temple.
As the years passed, Pastor Jesse L. Carter, Sr. was promoted by the Late Bishop J. Neaul Haynes to the office of District Superintendent and served as Jurisdictional Secretary for Texas Northeast Jurisdiction. In 1998, Lady Freddye Carter was chosen by the Late Bishop J. Neaul Haynes as Supervisor of Women, Texas Northeast Jurisdiction.
In 2003, as stunned members of the church and the community watched, the church suffered the unfortunate collapse of the sanctuary roof. However, services continued in the Fellowship Hall of the church, which was unaffected by the collapse, and was deemed suitable for holding services. Great preachers and missionaries continued to fellowship during this holding period. In 2004, Supt. Jesse L. Carter was diagnosed with cancer, and following a brave 19-month battle, this Founding Pastor was called from labor to reward on February 24, 2006.
On February 27, 2006, at the Celebration of Life for Supt. Carter, Bishop J. Neaul Haynes officially named, Jesse L. Carter, II the Pastor of Carter's Temple Church of God in Christ, with Sister Joyce Carter becoming First Lady of the church. Pastor Jesse L. Carter, II began by assisting the members during this period of loss and transition. God continued to shower blessings and favor on the church. Pastor Carter began rallying the saints in the building project. Using God's wisdom, and a very strategic and methodical approach, a new, modern sanctuary was built. The dedication took place on May of 2009. 2011 saw the passing of Mother Freddye Carter.
In 2015, Pastor Jesse L. Carter, II was appointed by Bishop James E. Hornsby as Superintendent of the Central Texas District, Texas Northeast First Jurisdiction. Under the leadership of Supt. Carter, II, there is never room for complacency or stagnation. There is, and must always be, improvement – both spiritually and naturally. Carter's Temple Church of God in Christ continues to be a "wayfaring church," where souls can be sheltered, shepherded and spiritually secure.